So this time last week I was on my way to Edinburgh and the Edinburgh International Book Festival for the second time ever in my career. And to be honest, I was terrified.
The Festival is one of the most prestigious and important book festivals in the entire calendar, and people come from all over the world to attend, either as guests or as audience. People like Audrey Niffenegger, Neil Gaiman,Grant Morrison, Darren Shan, Philip Ardargh,Jacqueline Wilson, Eoin Colfer, Ian Rankin andJo Nesbo among many, many others talk and sign at the festival over the month long schedule, and that's just the tip of the iceberg. A stroll through the Author's Yurt (the green room tent at the back) at any time of any day is a veritable Who's Who of the literary world.
And Dan and I were on the bill.
We were there to discuss Sherlock Holmes: The Baker Street Irregulars with Philip Ardagh, already a bigger draw than we were on the Friday of the convention and had been flown up two days earlier to make use of various signing events that eventually never manifested due to left arm publicists not knowing what right arm marketing folk were doing, so suddenly we had two days free to do what we wanted in Edinburgh, smack bang in the middle of Fringe season. Which was quite nice, as I'd brought Tracy with me and we felt we could do with a break.
So of course, the first thing I did was leave my phone at home in London, something I didn't realise until at Holborn station, when an accidental knock from another commuter had me reach paranoically for my pocket to find it missing. With no time to get back to pick it up, I was communicator-less, something I've not been in over a decade. Luckily I had my iPad, a wifi connector and Tracy, who once again came to the rescue when at Heathrow I realised by email that the powerpoint presentation I hadn't done because we didn't have a screen at the talk? Well, it had to be done because we did have a screen at the talk, because the small corner tent we were in? Was actually a much larger corner tent. And so I had to phone Victoria, the press lady at Hachette to confirm this, on Tracy's phone.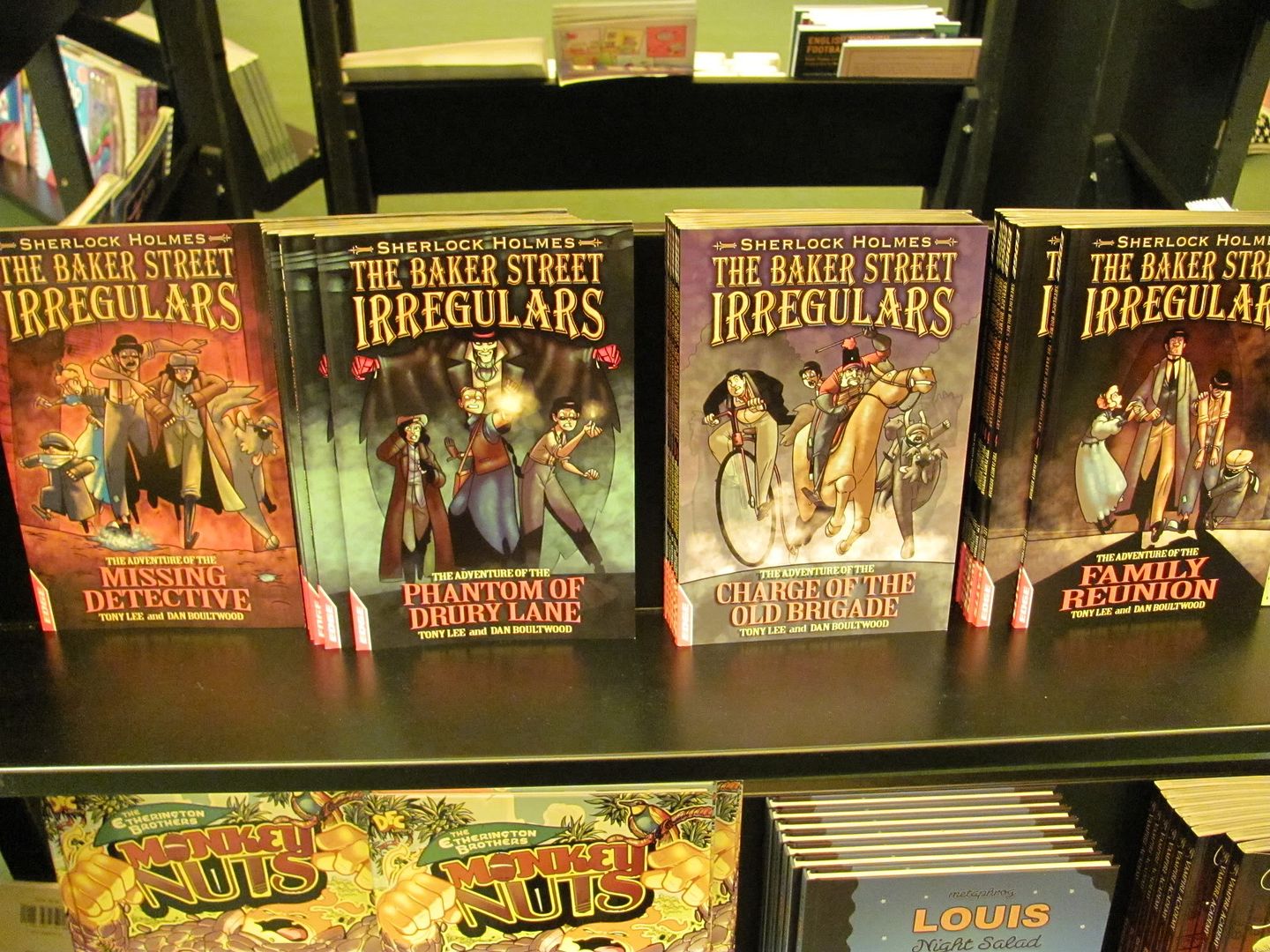 So, on arrival at the Yurt on the Wednesday of the festival and, after checking in, picking up our all access passes and settling in, I didn't go to the Audrey Niffenegger / Neil Gaiman talk like I'd hoped, instead I sat with my ipad, the festival wifi and my DropBox folder, creating a presentation from scratch. Because that's how I roll.
After that, we managed to get out into the city – Dan and his girlfriend Carla hadn't been to Edinbugh before whereas we had, so we became native guides for the night, visiting Vintage shops, haggis pie emporiums and of course a pub, one that actually had to be locked down when a fight kicked off outside. Tracy and I did a Mercat Tour 'Ghost Walk' of the Edinburgh Vaults, something we missed last time and then retired to the hotel.
Thursday was a day off, a rarity for me as anyone knows, and we spent it walking around Edinbugh, visiting a few 'tourist traps', taking some photos (including a picture of me in the Edinburgh Necropolis that's so good it's now my new author photo) and getting to a couple of shows. We then walked back across Edinburgh to Picardy Place and the birthplace of Arthur Conan Doyle, which is now a roundabout, with a plaque beside a Tescos Express. But we walked for miles, that day. In fact, we were so tired by the time we came back to the hotel around eight, that we ended up staying in the rest of the night.
Friday was an early start, and one that began with a little concern. I have flat feet, and close to twenty years ago I'm convinced I broke a bone in my right metatarsal, which means every now and then, especially after long walks, it aches. And as I woke on Friday, there was a twinge. But I hoped it would go away, and we caught a taxi to a show we both wanted to catch, only to find that it had sold out. For theentire run. Luckily an old lady who's friend had cancelled on her took pity on us and sold Tracy her ticket and so, while Tracy watched the live version of 'Belleville Rendezvous', I sat in a cafe with my iPad and wrote. After all, I still had deadlines.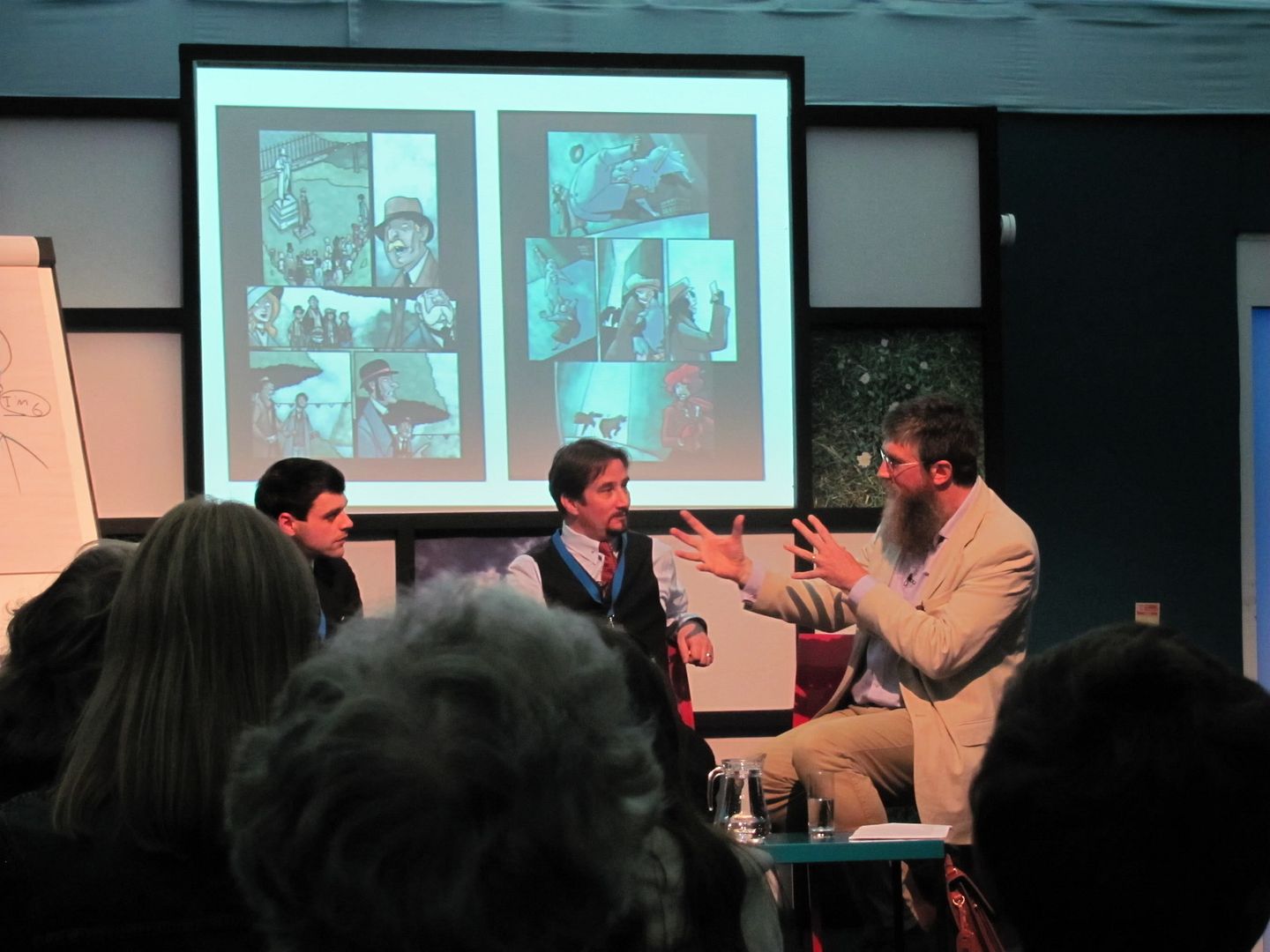 And then it was time for the talk. Dressed and pressed, Dan and I arrived at the Yurt half hour before the talk to discover that the powerpoint presentation was good, the audience was healthy and that Philip Ardagh, the chair of the talk was an incredibly nice man. We went through what we wanted to talk about, Philip discussedSherlock Holmes with us (he hadSherlock Holmes cufflinks on – in fact all three of us had cufflinks on) and then a messenger from Chris Close came over and asked if we'd like to do a photo.
Now, I need to explain this. Over the last two or three years, Chris Close has done portraits of some of the biggest names in literature. He does humourous, candid shots against a white background, mainulates them a little and, the following year, these canvases will be seen on the pathways between venues. Many people use these as a 'Who's Who' on what books to buy – after all, if you're good enough to have a photo, then hell, you're obviously worth reading.
So it was obviously with some trepidation we went to see Chris, who, inspired by our books and nattily dressed attire had some ideas including 'peeking from behind a wall' and also a Krays photo homage. We did a few, expecting that this was just a courtesy, that all guests got a photo and then he just picked the relevant ones, and we returned to the Yurt, where we learned that it was time.
The talk was one of the best I've ever done, to be honest. The audience were interested, Philip was an excellent chair and we managed to gain a lot of interest in the books, so much so that during the signing after, some industrious kid realised that the back of the bookstore had a 'children's craft area' complete with A3 paper, and suddenly Dan had a line of sketches to do. One lady said she'd never heard of the books until the festival – but would now buy every single one of them for her school library as well as her family. Another brought some Doctor Who books. And of course copies of Excalibur: The Legend Of King Arthur and Ravens Gate, both on sale were also signed. It was also good to see Sarah our PR girl properly as well as catch up with old friends Greg Anderson and Lyndsey Hutchinson.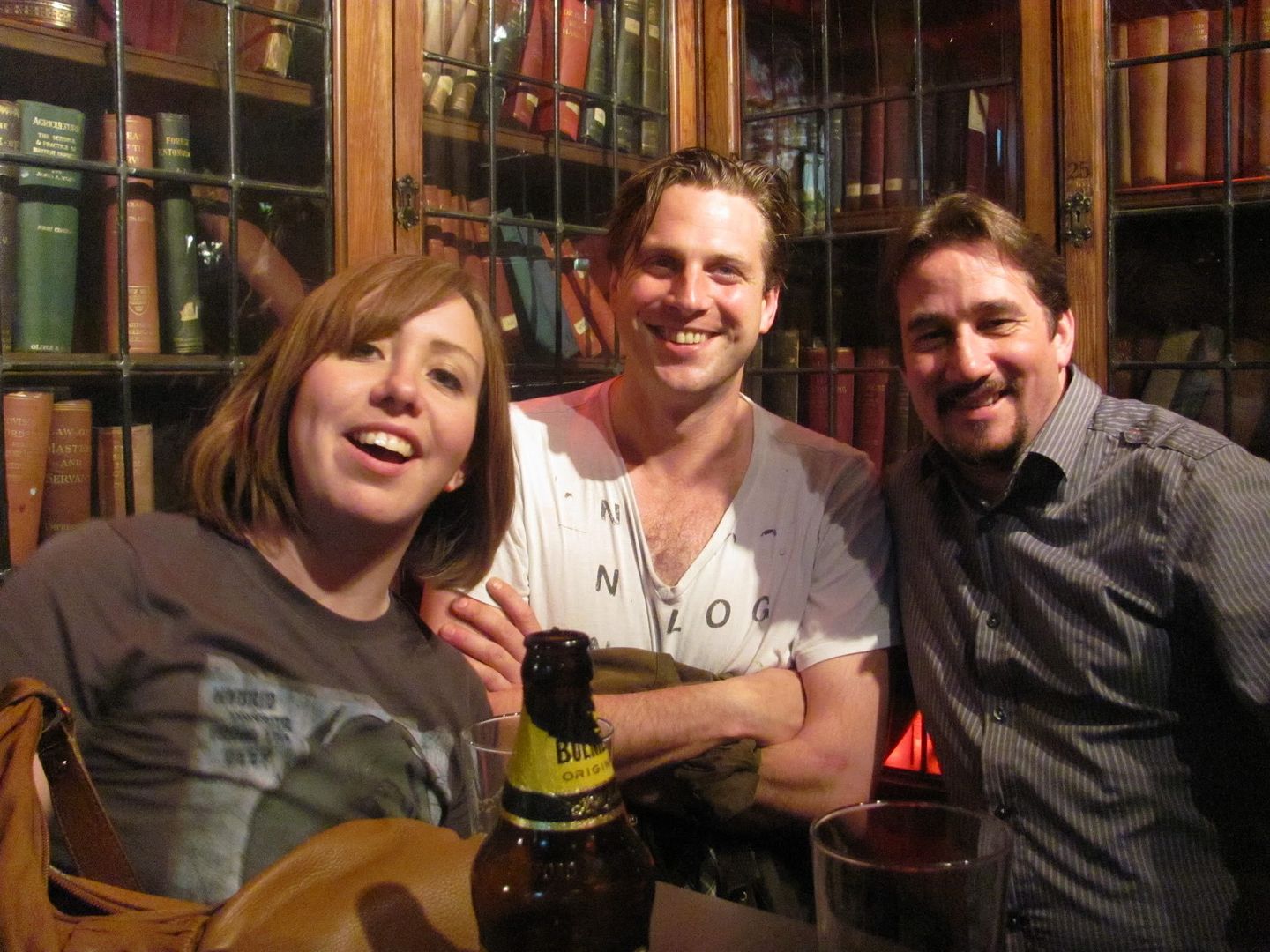 From there it was a change out of 'convention attitre' and then off toFrankenstien's Bar for food followed by drinks at the Guilded Balloon, where we met up with some friends for a final night drink, including Jon Edgely Bond from the Fitzrovia Radio Hour. We've been a fan of the troupe for a while now and ever since I berated a useless critic for not getting the show, I've been on the 'Nice kids list' with Jon and we've gotten to know each other quite well over the months, but this was the first time we actually sat down with a drink, which was great, because our event was over, we could relax and we were among friends. Eventually it was time to go back home and prepare for our final day in Edinburgh before our 7.30pm flight home.
And then disaster happened.

4am and I wake up with a killer toothache. I get up to fo to the bathroom to examine and fall over – I can't put pressure on my right foot, it's inflamed and screaming in pain. I manage to stumble back into a semblance of sleep, but by 8am I'm a broken man. Tracy does what she can, but I'm hobbling and obviously not having a good time, which is irrelevant as we need to check out.
11am and we're checked out and have six hours in a city to kill. By now I've had some pain killers and can limp about a bit easier now the muscles are warming up, so we manage to spend a chunk of the day out in the city again, but eating is a nightmare as my right side flares up every chew, and I have to sit down every fifteen minutes as the hills of Edinburgh are killing me. That said, we still manage to cover a fair few miles, and I finally find 'Bum', the Greyfriars Bobby of San Diego. When I was at SDCC I found a statue of this dog, with a copy of Bobby next to it in some kind of 'swap dogs statues' attempt. So, I knew that the San Diego dog had to be in the city somewhere. I just didn't expect it to be at the back of a park near a car park…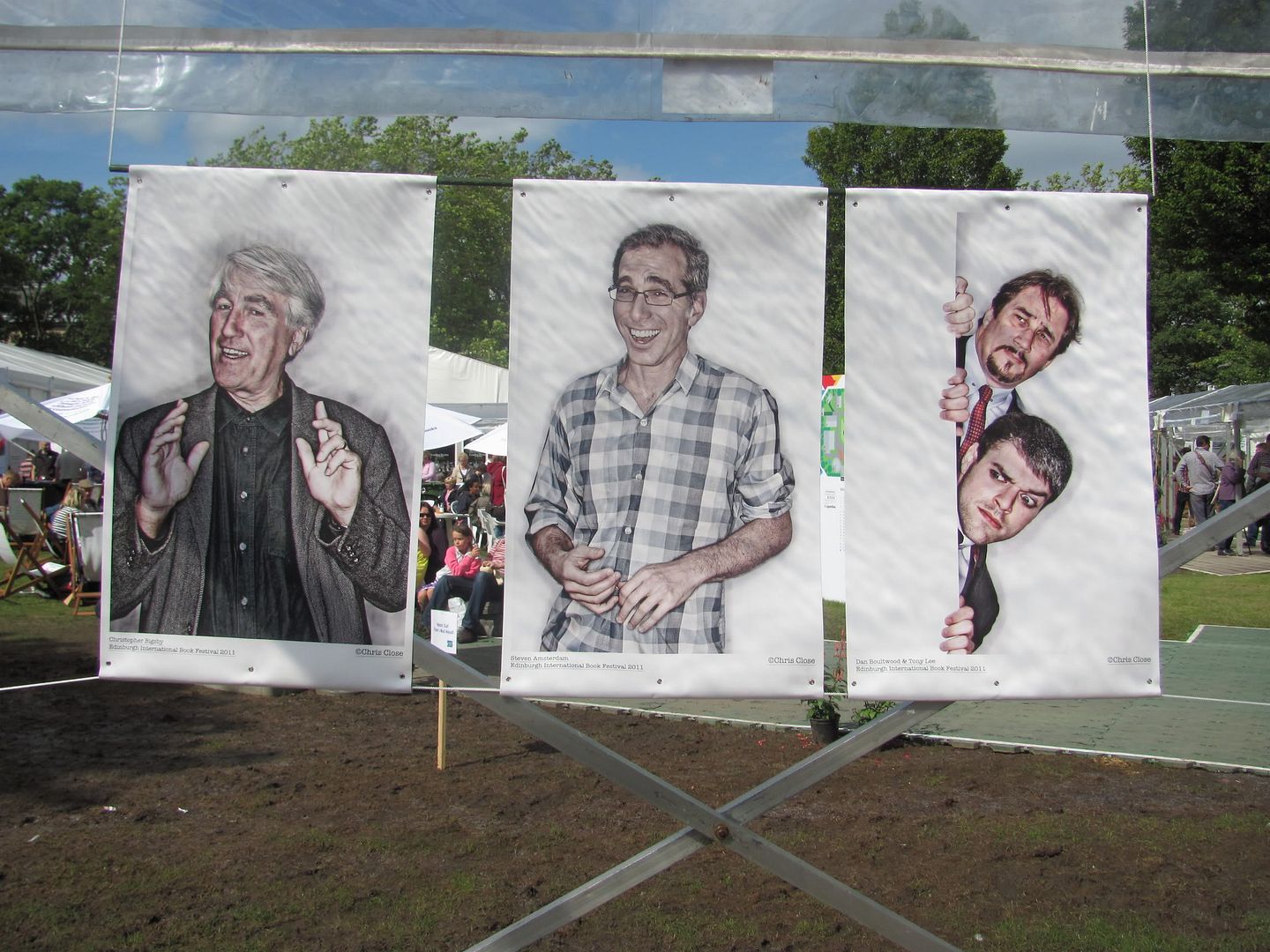 At 3pm we returned for a final farewell at the festival, a quick shopping trip to the bookstore and a rest at the Yurt so I could relax my foot. As we walked around, we noticed a welcome surprise – Chris Close's pictures from the day before were already up, something almost unheard of – and more importantly, the one of Dan and I was in pride of place outside the bookstore. A great end to a thouroughly miserable day. I even missed celebrity author chum Barry Hutchison as he was on stage (again, with Philip Ardagh) as I was in the Yurt.
And then it was a limp to the airport and a long tube journey home the other end, to a finally welcome bed.
Three days later and the toothache is sorted with science and medicine, the foot is sore and bruised but walkable, and my deadlines mean that my time in Edinburgh has already become nothing but a memory. That said, for all the pain and suffering, it's a fond memory, for the people I met, the new friends I made and the faces on the audience when they heard us talk of some scrappy little kids who only want to help a great detective.
I love the Edinburgh International Book Festival. And I hope to return in the future.
Philip Ardagh's own blog on the festival is available on the Guardian website. To see larger versions of the images above, right click and open in a new window/tab.